Reasons to Choose a New Build Container
Why do we build new containers when there are plenty of used and new shipping containers ready for conversion? Shipping containers can be repurposed for a multitude of applications, including storage, office and work space, accommodation, retail and catering, to name a few. Which is great. Unless you want something size-wise that a shipping container can't give you with its standard dimensions of 8ft wide, and 8ft 6in high. It's easy to cut shipping containers to any required length, but when it comes to width and height we need to build brand new containers to offer our clients a diversity of dimensions. Let's have a look at some of our most popular new build containers.
Popular New Builds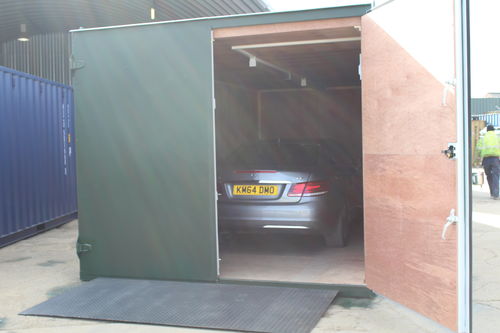 Extra wide containers, CarTainers® and SlimLine® containers are our most commonly requested new build containers. We make CarTainers® to a standard 10ft wide, as this leaves enough room to park a car inside, open the doors, and comfortably exit. Alongside this we offer bespoke build garages and other containers that can be built to any requested width, height and length. Extra wide containers are also popular for offices and industry, but whatever you need a new build container for, we can build it.
SlimLine Containers®

Slimline® containers are built to widths under 8ft – just tell us what length you need! Constructed in our own on-site workshops, SlimLine® Containers can be made to any specified length. All our SlimLine® containers are made with the following specifications:
Cut from brand new 1.6mm thick steel sheeting, corrugated on our machines for extra strength
Double doors made from 3mm thick steel plate with locking arm and compressed door seals
Steel floor chassis overlaid with plywood
Painted to choice of colour
Extra wide containers

We build new containers to widths from 9ft up to 14ft. Any wider than 14ft and delivery becomes a problem. However, for containers wider than 14ft we can build new shipping containers designed to link together to form wider spaces.. We can also modify standard shipping containers to create spaces as wide as you need by joining up shipping containers; simple to deliver and designed to easily fit together.