Turning a Shipping Container into a Home Gym
Finding it hard to stay motivated with your exercise regime? Do your gym membership fees outweigh your usage? If you'd like to stay fit without leaving the house or paying ongoing costs then a home gym is the solution. Not many people are fortunate enough to have the space indoors for their gym equipment, but with a shipping container gym all you need is a little bit of space in your garden. See how basic shipping containers can be transformed into a home gyms with the addition of few modifications.
Reasons for choosing a shipping container gym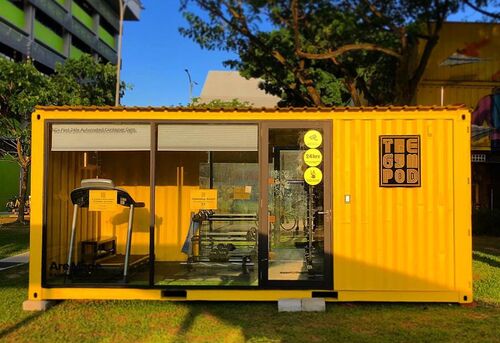 Secure
Portable
Private
No queues
No costly subscriptions
Weatherproof
Long lasting and hard-wearing
Adaptable
A gym in a box

Shipping containers are incredibly strong and secure, making them an ideal place to store all types of gym equipment, including weights, treadmills and bikes. Depending on your available space you can opt for containers between 8ft and 40ft! A large container should give you all the space you need to work-out inside, whereas a smaller container can be used for equipment storage, and open up into your outdoor space to allow you more room for your workout. Racks fitted around the inside of the container are handy for hanging weights etc, to give you more floor space Many people opt for unfolding training stations to take advantage of the space around the containers, or bars can be fitted to the outside of the container to secure equipment to, such as punch bags. With the addition of extra wide doors in the side, or full side access doors, once opened up the container gives you easy access to larger pieces of equipment that can brought outside.
Modifications for home gyms

Containers Direct carry out a wide range of modifications and container conversions to transform a standard shipping container into a unit fit for your gym equipment and work-out space:
Commercial gyms
If you are opening up your gym to the public you may want to invest in something larger. Joining shipping containers together can give you a larger width area, or you can opt for new build containers, built to any requested size. Showcasing at public events and festivals – if you are going down this route what could be more convenient than a gym that is entirely portable! We can even provide portable toilet and shower blocks to accompany the gym.
Into more gentle exercise?
If pumping iron isn't your thing, but you are still mind and body conscious, shipping containers can also provide you with a home yoga studio. Large windows and a non-slip floor can provide a safe and tranquil space at the bottom of your garden to get away from it all.